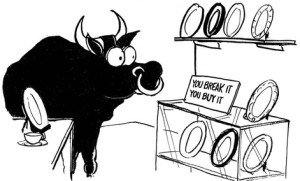 When I started with a little group in  Tiverton some years ago James suggested that I could 'take along pens knives scissors chopsticks and so on'… or words to that effect.
Sometimes, in order not to interrupt the flow, I trust that things will become clearer in time or through engagement… if I asked him anything by way of clarification I think the answer probably was 'you have to hold them differently'…err…  yes…and???
As I put together an assortment of articles to take with me I had a glimmering of that to which he was alluding. That everything, everyone, with whom we engage – if the engagement is to be the most attuned or appropriate – requires a unique response, specific to their presentation that time.
I could give you many examples of my not getting that right…however I think this one, which doesn't involve people, is a good illustration –
I was in charity shop a little while back and when  i went to pick up a painted wooden duck, very similar in appearance to one i once owned …  there was an explosion….it was very surprising …bits of stuff went all over the place.
Luckily I managed to catch a little vase in my skirt before it hit the ground and amazingly the other bits and pieces which I had knocked over were unbroken.
I'm not usually clumsy so what had gone wrong?
Well, it was just that I had picked up the wooden duck, which looked so much like one I had owned some years ago, as though it was the exactly the same. However whilst this duck looked like it was made of wood ( I was not wearing my glasses!) it was in fact pottery – quite a different weight – and, moreover, the head and neck came apart from the body… they formed a lid to a pot… and it that was what I lifted up. I had gauged the amount of energy needed and the trajectory completely wrong and the spare energy scattered everywhere.
So  it is with people. If we are confident that we know how the other is prior to meeting them, or if we meet them without sufficient spaciousness to have a sense of how they actually are ( because we are already full of our own ideas about how they are, or what we have to get across to them)   or if we just have our own constant ' way of being' – take it or leave it this is me! – then the possibility of a beneficial congruence is remote…. and the risk of explosions much greater!
Instead we have to keep looking, take nothing for granted, put our memories aside, and have the confidence to be tentative…trusting that we can regain our balance after a faux pas or mis-step/ mistake… and also play a different tune if that's what the situation requires.
All of which requires a good degree of openness. Intentionally practising doing it differently will, in my experience only take you so far…  it's the on-going practice of openness which will naturally lead to that 'fresh cooking' in the moment… of/as which James speaks
This P.S. arose as a solution to a practical –?what is fitting – problem and might just be useful-
I have a fridge and from time to time the drain hole bungs up and the bottom fills with water. The instructions suggest inserting a little plastic gadget (sometimes supplied) or a straw into the hole. This has worked before but this time no luck!
I didn't want to call out an engineer to dismantle the drain from the back but, looking on the internet for another solution, i got to see the shape of the drain – its straight for a little bit [the gadget/straw solution works for blockages in this section] but then it then curves away downwards.
I wondered… What would have sufficient strength to clear the blockage…be the right width to fit inside the drain…after insertion- maintain a curve in the right direction so that it would enter the curved part…and be soft enough not to damage the drain ?
…a little while later i caught myself looking at the open plastic ring with the tab – the one that you pull to get the top off a plastic milk carton – as it lay on the side waiting to go into the bin…
Perfect!