In the childrens' game of 'Pin the tail on the donkey' the winner is the one who, whilst blindfolded, manages to pin a pretend tail onto a drawing of a donkey…  closest to the anatomically correct position.
Now, if we were inflatable donkeys…of the kind children might ride in a swimming pool (well i'm sure you've seen Loch Ness Monsters in that setting…so donkeys are a possibility…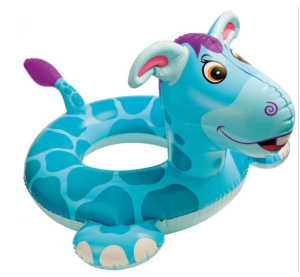 ….aha, found one… the incredible creativity of the mind!…)
we'd rightly be very wary around pins…for fear of deflation …. sssss….
In our felt separation – there's me and there's you
and we donkeys can make such a hullabaloo
…swapping tails with each other
we say 'How d'ye do' but….
we can be quite wary (while holding our pin)
with the thought that 'the other'
might stick theirs right in…
………………………………..our posterior!
In being not donkeys,
the tails are just tales…
and we don't have that feeling that
we could be nailed.
And, in being (not donkeys)
we don't fear the pin…
as there isn't a rump
for the pin to stick in
Just being is us, but it cannot be done
if we spend our time fearing a pain in the bum!
This came after a chat about the  behaviours that we do with a friend who is about to be 90…happy birthday Gwen!