When I was in hospital  many years ago I was up during the night and spent a few happy hours chatting with the night staff. As I was leaving to go back to bed someone said 'you're not a bit like how we thought you were.'
On the basis of my having a fresh nightdress each day, having the consultant visit regularly and being visited by a number of reasonably well dressed more elderly gentleman they had, discussed me, invented their own 'me' – and come to their own conclusions about it!
[In fact the nightdresses were borrowed and the consultant and elderly gentlemen (other consultants) were all people I had worked for in a different area of healthcare.]
Sometime later when I was working in a hospice I was told not to bother with Mrs so-and-so today.  'Why not?' I asked, and was told that she was in a really foul mood so no one was going near her. I wouldn't 'not be' with someone just because someone else says so and also I was interested to know what the problem was. So I went to find out, said hello and smiled as I went into the room, and asked how she was.
It transpired that she had been treated like a child – told that the nurses would take her for a cigarette only when she had done what they asked of her, and when they had  finished doing everything else they needed to.
No wonder she was angry…dying and powerless and being controlled.
She was not angry by the time we had finished talking, she wasn't inherently angry, it arose due to causes and conditions.  The nurses saw it as a nuisance to have wheel her bed into the smoking area, they didn't smoke so they didn't know what it felt like to be blocked in that way, they didn't approve of her smoking, and that fed into their behaviour towards her, concluding that she was a nuisance… and then hers towards them. It was a situation was quite easy to resolve and explain.
My father, aunt and uncle… many people that I knew smoked – I think my father was given cigarettes in his rations during the war… a whole generation grew up smoking like that.… Although some died of smoking-related cancer they weren't stupid… and even if they were, would that mean they deserve less kindness than the clever/lucky ones?
The bodhisattvic attitude… that all beings have been your mothers or fathers in previous lives and that you therefore meet them with a debt of gratitude gives a clear direction to open the heart to everyone we meet.
The dzogchen view is that the 'other' is not other, nor the same, but an aspect of experience arising in awareness… part of the integrated field and not something which can be 'summed up'.
Judging, ascribing value dependent upon perceived behaviour requires 'something' to have been created in the first place. This we do by cutting out the other from the context…. and in the business of separating out and reifying the other we simultaneously create a false sense of solidity for ourselves. So in judging we set up the potential for being judged either by 'others'… or 'ourselves' as we identify wholly with a manifestation which is the creativity of the mind.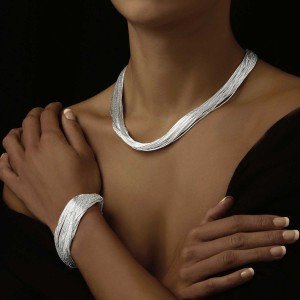 This creativity is extraordinary… just a little example which made me smile –
The other day I was standing next to a lady  in a queue. We had been talking about this and that when she suddenly said 'I really like your necklace, it's really lovely!'
The necklace is just a simple silver chain and a flat 'Hung' pendant.
Then she said 'I really like the liquid silver'…. I raised my eyebrows… and she said 'you know, liquid silver… it's really lovely'. I do know liquid silver, fine tubes of silver strung on thread… the necklace is not that… so I just smiled at her.
Then she said 'and I really love the Egyptian beads'.
Knowing what she was looking at I said 'balls of fluff'… but she responded with
'I know my Egyptian beads'… so I repeated 'balls of fluff'.
As I explained that tiny bits of thread got pulled out of whatever I was wearing and clumped together around the chain… her face was interesting to watch as the marvellous necklace made of liquid silver, strung with Egyptian beads, slowly changed shape before her very eyes!
There is a saying 'there's none so blind as those that will not see'…. some insist on the absolute truth of what they can see… but don't see that it just looks like this… at this moment, under these conditions, wearing this particular set of 'conceptual lenses'…