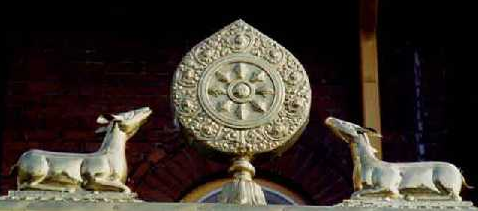 Once upon a time long,long, ago… I was meditating, sitting on the grass in the Deerpark at Sarnath. It was early morning and relatively quiet, the light was soft and there was not yet much heat in the day. There were no deer, I had checked that out earlier… the animals had changed… there was  a crocodile instead!
So I was sitting at a place where I had sat in before and slipped into some meditative state. I always used to sit cross-legged with my small pack underneath my right knee and I would often slip the leash attached to this around my leg.
Packs can disappear in a flash, one moment they are beside you, the next moment whisked away.  I had found the advice I was given to put a leash on my big pack also useful in England before setting off – looping it through a chair or table leg to slow down anyone wanting to snatch it for long enough for me to get a drink. There would be some commotion in the pulling over of the chair or table which might help…and usually i had my weight on it too…so this leash gave me freedom from clutching my belongings with security.
So…there i am, meditating…and dropping into a state of being less conscious of what is going on around me… then suddenly feeling a tugging. Tugging where? Lots of different places!….
From whom… Lilliputian thieves!
Very strange  to have some of this gang of little beings trying to pull your pack away at the same time as others worked on removing your shoes, undoing your watch strap, removing your necklace….etc.
They were too small for me to whack at, and that thought did not cross my mind at the time – but anyway it was too muddly – using force i might injure one accidentally… If i had focussed on stopping one pair of hands in particular, another pair might have succeed…
So i just kind of exploded up and out… very, very, big… and they ran away..no harm done.
With the thoughts envisaged as little binding threads, as in the previous Gulliver post, practice of the hinayana in the bodhisattvayana and tantrayana methods can bring about a change in the kind of thoughts or apparent quality of the thread.
With each view, because of the varying way oneself and  'others' are regarded, a 'revising of sizing' is required and facilitated.
In the practice of dzogchen, resting in the openness, the variations in focus from infinite to very small, openness to precision, is ongoing and become more attuned.
The use of the syllable 'phat'  can break the 'golden threads' as well as the 'mundane'; or one can simply relax out of any particular shape or size …….
….becoming more and more shapeless gives more potential for different shapes to show…
The little story above relates to the second time that slipping into an altered state had been an unhelpful disconnection from my lived situation. The first time was when my bag was stolen, in a library in England, as i stared transfixed at my first sight of the Simplybeing website… which had just come into being! It's much safer to be awake, able to take different shapes, than in a fixed or altered state, when moving in the world.
P.S. The crocodile was in my mind…and so were the deer in their pen…leaves were being brought in from the countryside to feed them. The deer park was not as i had imagined!