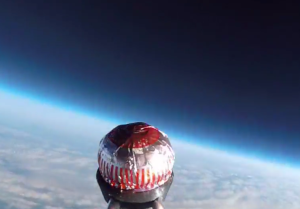 'One of Scotland's favourite snacks' according to the Scottish Sun newspaper has been sent 36,000m into space…'and the nation waits'.
I used to enjoy these when I was younger – biscuit base, marshmallow topping, covered in chocolate – but i wouldn't expect too much from a high-altitude tea-cake!
David Cameron tweeted that he 'liked the shine on the foil…'
Viewers of this site will probably have more realistic expectations of satisfaction from the recordings of 'Dissolving Conflict in Life and Death', this year's talk at Emerson College, which are currently travelling through cyberspace – ready for Chris to publish when he has a moment – carried on the tail of a hurricane-wind dragon!
Some other work (coming later) has gone on around these recordings so it's taken longer than usual and i haven't had time to post… and now need to catch up with other stuff! but i will let you know when this great feast is available on the simplybeing.co.uk website…