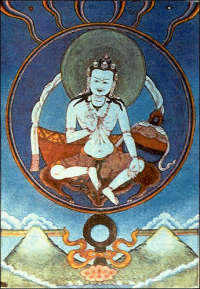 S
ome of us were fortunate enough enough to  hear James teaching  over the last weekend
Afterwards I wrote this down to celebrate:
In gratitude for Garab Dorje's Three Points
Our infinite spacious hospitality,
seam-less with phenomena
arising and passing ceaselessly…
Wow!
Our real home – yet, no 'thing' to see
wisdom beyond concepts
no tensions of identity
Wow! again… Wow!
This empty ground of 'you' and 'me'…???
Forgetting this we're
lost in ways which hide the key
so busy making 'You!' and 'Me!'
out to be what we are not,
clinging to thoughts with certainty.
Habits  and intellectual chicanery
these blind us to ourselves,
we want to 'Know', compulsively…
…so round and round we go in misery.
Locked in our 'selves', we'll not get free
using these bent samsaric keys.
'Ow!' 'Ow!' 'Ow!'
Homage then, now, eternally
to the truth reminders
of empty indivisibility.
Pointing to space, to true reality
the mind itself,
the greatest gift, our unseen key.
So lucky ducks – that's you and me
with practice find ourselves
relaxed, at home, united with our mum!
Released from yearning, breathing easily
no place to find, no thing to grasp
how simple we can be…
…freed within life's complexity!
Emaho !
Wonderful !!!
and time for another cup of tea !!!!
There's a great team working on the recordings and they will soon be up on the James Low You Tube video channel…If you check in there you'll find plenty to keep you going until then.
There is also the Macclesfield Talk 9 for an earlier explanation – Refuge is liberation – Garab Dorje's Three Points as the
essence of refuge –  From fusion   to dualistic intention      to
non-dual liberation