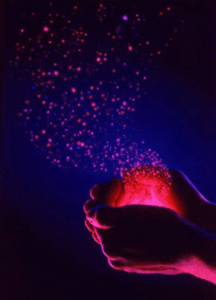 Just an attention grabbing line, i hope…
in case you haven't noticed this latest, very beautiful, publication… 'Sparks' by James Low.
Although one can dramatically 'burn the vanities'… until the underlying sense of need for covering is gone, sooner or later, replacements will be sought.
By inspiring, allowing them right in, the marks on these pages can become heart-sparks… and then through repeatedly breathing onto them with tender attention, slowly or quickly, they will surely glow and then set fire to the soggy accumulated dead wood, so that the brilliance of the source of inherent warmth and wisdom can blaze forth unobstructed.
Mostly 'though the fire aye burns,
we do not realise, because…
our smoke gets in our eyes!  
I felt moved to write the review below for Amazon:
'If I had to choose one book to take to a desert island,
one dharma book,
one book for all time,
one book to open the heart to…this is it.
With iridescent lucidity ….moving beyond words
using language which is precise, yet contemporary and very accessible,
with great warmth and encouragement, the wisdom shining through this great teacher of dzogchen illuminates the way from lostness and confusion to the ease of our being, both simply and directly.'
It's also available through Abe books and, if in London, from Watkins book store.